PRESS FOR SKIN BISTRO
February 2015:

Featured on Daily Mail,'Perfect make-up made just for you'.


December 2013:
Selected by Marie Claire online on its feature about 'Bespoke Beauty: Where And How To Get Skincare Tailored To You'.
April 2013:
Featured on The Chiswick Herald as one of The Best of British Beauty!
July 2012:
Our Hands & Feet Serum is picked as a favourite by the Editor of The Green Parent Magazine!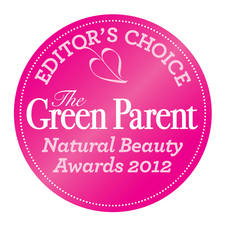 April 2012:
Our Pure Bliss Organic Castile Soap is commended by the Free From Skin Care Awards!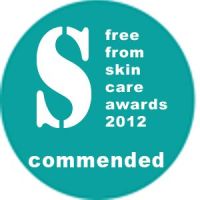 March 2012:
Hands & feet serum 'picked and reviewed' on Maboho.
'Skin Bitstro's Hands & Feet Serum is a true elixir for dry, chapped and cracked skin. (...) The
tiniest amount really does go a very long way.'
February 2012:
Organic perfumed whipped butter featured on the Love Lust & Fairy Dust blog.
'It is instantly soothing on the skin and within 3 days of using it my hands were transformed, no
more chapped, peeling skin, no more redness or soreness, just smooth, nourished comfortable skin.
I have also been using this product on other areas, cuticles, elbows, I've even used it as an
overnight treatment on the hard skin on my heels, I can see that this is going to become one of
those products that I will always have a use for, it is a little pot of magic.'
November 2011:
Featured on the Christmas Gift Guide: Beauty Lovers, Twinkle Magazine.
'Skin Bistro is a great range of handmade natural skincare products. They've got soaps, scrubs and
bath soaks. They look great, smell great and come in beautiful packaging that makes them perfect
for gifts. Our favourite is their Home Spa Bath Soaks, and they are a steal at just £4.25'.
September 2011:
Skin Bistro's goodies feature on The Green Familia:
'When it comes to soap sometimes keeping it very simple is best. (...) The list of ingredients
[for Pure Bliss Organic Castile Soap] is short, simple and intelligible, so you can be confident
that there are no irritants or chemical nasties.
September 2011:
Pure Bliss Organic Castile Soap featured on the Green Buyers Guide, Simply Beauty Magazine.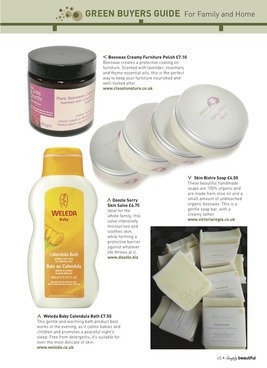 September 2011:
Featured on TNT Magazine - 'Cool crafts >> How making stuff shed its dowdy image' (page 10), and online.
June 2011:
Featured blog post on www.joannedewberry.co.uk:
'How to make: Simple balm to use after waxing or plucking hair'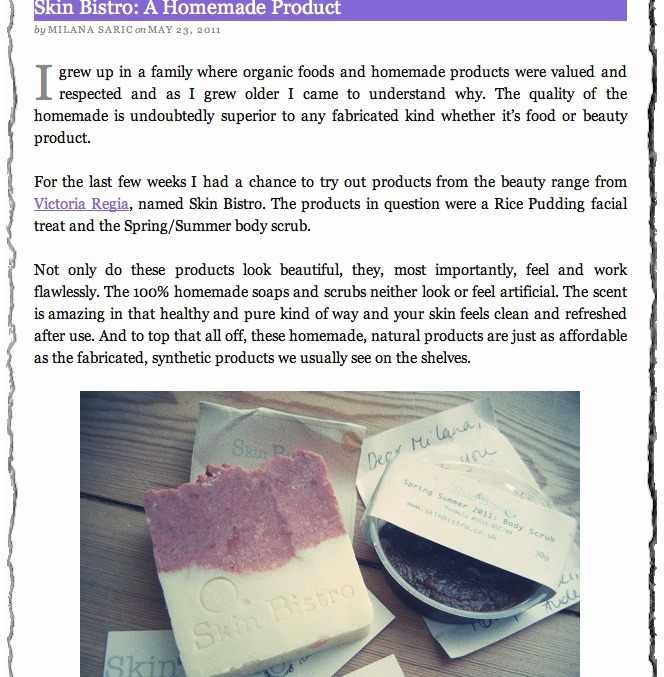 May 2011:
Blog post review by Milana Saric:
'Not only do these products look beautiful,
they, most importantly, feel and work flawlessly.'
May 2011:
Pure Bliss castile soap review by Mini Modesty Brown:
'The gentle lather feels lovely on their skin and mine too. I find it leaves skin with a polished
feeling somehow. It's a different sensation to liquid soap/shower gel but it doesn't leave skin
tight or dry like many other soaps do.'
March 2011:
'Bespoke Beauty': individual formulations by Skin Bistro Bespoke (former Victoria Regia),
'another company from the UK offering bespoke blends and vegan alternatives to toxic commercial
soaps and and shampoos'.
'Customizing cosmetics to make them safer and more specialized to your own skin's sensitivity
is something even major companies are looking at as the public's awareness picks up.
Here are some of my favorite bespoke beauty brands.'

January 2011:
'Out of the blue': Handmilled castille soaps and bath salts.
'(...) a beautiful balance has been struck between keeping pakaging minimal while still creating an
enourmous impact with presentation.'
December 2010:
Pure Bliss castile soap wins the TGF Awards 2010 - Body Category.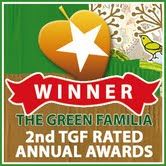 December 2010:
'Alternative gift ideas': Hit the slopes ski kit gift for Christmas 2010.
'(...) everything you need after a long day on the slopes.'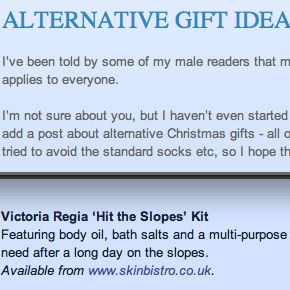 November & December 2010:
The Green, local magazine: online and in print.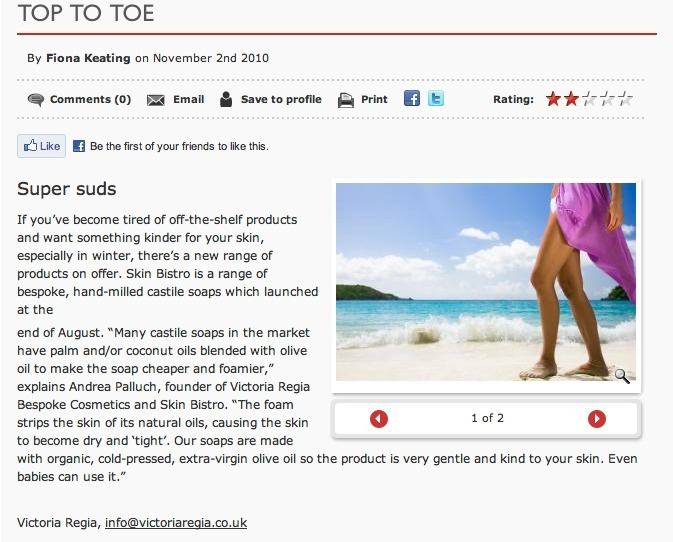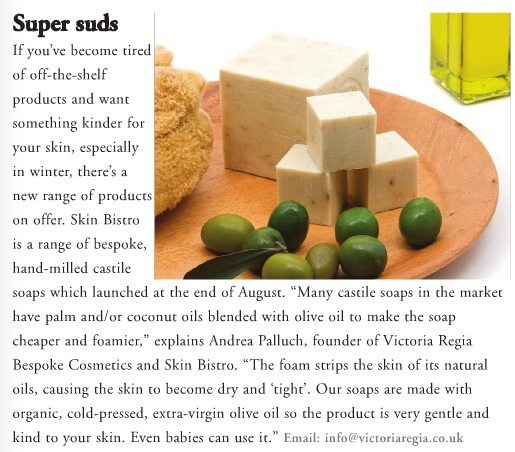 September 2010:
Skin Bistro Bespoke (formely Victoria Regia) wins a certificate of achievement from weekly magazine Insight.